Enough is enough. How have we reached a point in politics where lies are the norm, and populations can't be heard through the media machinations bent on keeping the disinformation afloat?
Today I realized that being a "terrorist" is maybe a good thing. Many thanks to the lovely ladies of the Lebanese aid flotilla who are the latest group of civilians attempting to bust open Israel's illegal economic blockade of the Gaza Strip.
I was sitting in my summer-rental in Beirut this morning, enjoying a leisurely Sunday and surfing the web to catch up on some news when I came across a despicable commentary piece by Ben Cohen, a run-of-the-mill propagandist at the American Jewish Committee (AJC).
Right here on the Huffington Post, Cohen launched into a diatribe against the latest aid flotilla headed for Gaza – this time an all-female ship called the "Mariam" which is named after the Virgin Mary and boasts a crew of Lebanese ladies and foreign nationals from the Arab world, US, Canada, France, Serbia, Holland, Finland and other countries. With zero evidence whatsoever, Cohen tries to malign this humanitarian effort by linking the flotilla and its participants to Lebanese resistance group Hezbollah:
"This flotilla is being organized by Yasser Kashlak, a Palestinian businessman based in Lebanon. Kashlak is known for his ties to terror groups, having shared the platform at a January "pro-resistance" conference in Beirut with representatives of Hezbollah, the Popular Front for the Liberation of Palestine, the Syrian Ba'ath Party and the Iranian Vice-President, Reza Mir Tajeddini. Kashlak insists that his flotilla is an independent initiative, but Al Manar, Hezbollah's broadcasting arm, disagrees, noting that the voyage was announced less than a day after Nasrallah appealed for more flotillas to head for Gaza. The assertion of no connection with Hezbollah is further undermined by the presence of Samar Hajj, the wife of a former Lebanese General jailed for his part in the assassination of Lebanese Prime Minister Rafiq Hariri."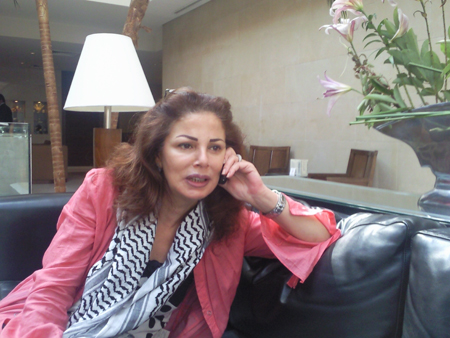 Samar Hajj
The article – ostensibly about the flotilla – uses every trick in the substandard-journalism book to connect individuals and groups by mashing together tidbits of information to suggest a coherent linkage. Have an Arab-sounding name? Palestinian is better. Have a beard? Headscarf? Good. I can make you into a terrorist in 24 hours or less.  (more…)